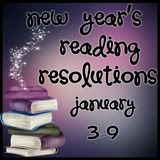 As all of my old followers would know, I love a good giveaway so this one will be no different.
I have chosen to give away a series of books that I kept looking at in the book store last year but still have yet to read. The series is a little different to what I normally read but I have friends who have never steered me wrong telling me that this series really is sensational.
I have seen the movies that have been released and they are pretty awesome, so I imagine the series is even better.
The series I have chosen is the Night Watch series by Sergei Lukyanenko.
I have added the good reads links below each cover so that you can check out the descriptions and reviews.
The only things you need to do to enter are:
*Be a follower (old or new, I am not doing points for this one)
*Comment on this post!
That's it folks!
Enjoy hopping around this giveaway, there is heaps of cool stuff out there.
Edited to add... This giveaway IS international! Books will be ordered via book depository for you if you are the winner.