I haven't been able to post much in the last few days due to work issues and not having much time to focus on anything else inbetween.
I am still jumping on the Tuesday Tag-Along train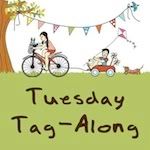 So go check it out if you haven't already.
And if you haven't seen it already, my give away starts on Friday. Check out the
Sneak Peek
.
Chazz